Organised unboxing / Bridge to America / Deepfake news
COME ON, WRITER, DO THE ORGANISATION
Behold, an unboxing: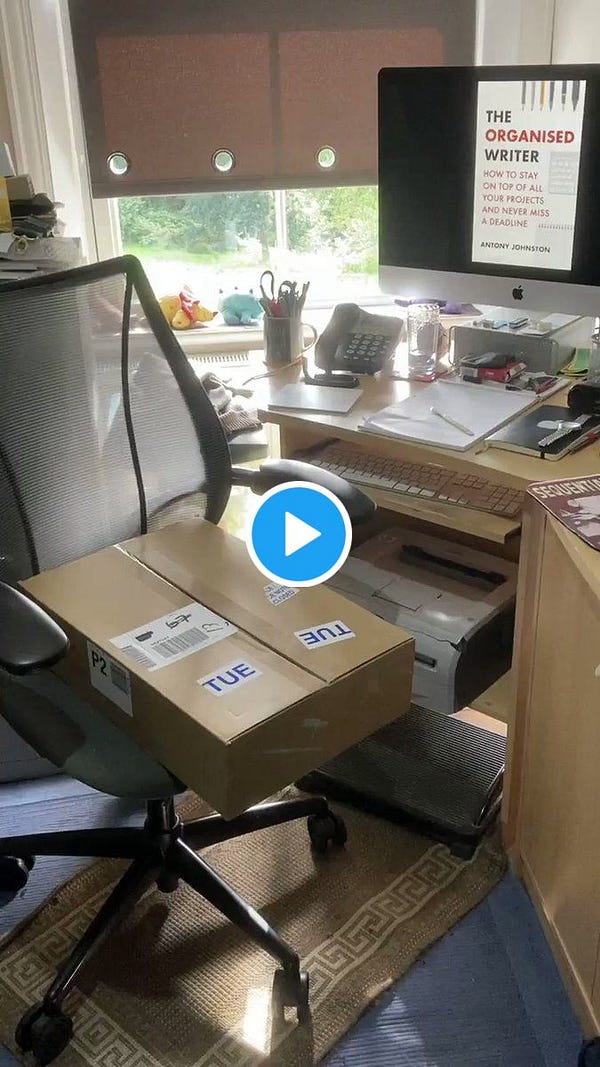 It's only a couple of weeks now until THE ORGANISED WRITER is published. We've lined up some interesting events to go along with it (all virtual, of course). Times are UK:
On Thursday 8 October at 6.30pm I'll be talking to the Nottingham Writers' Studio about the book, why and how I wrote it, and of course how it can help you — assuming you're a writer!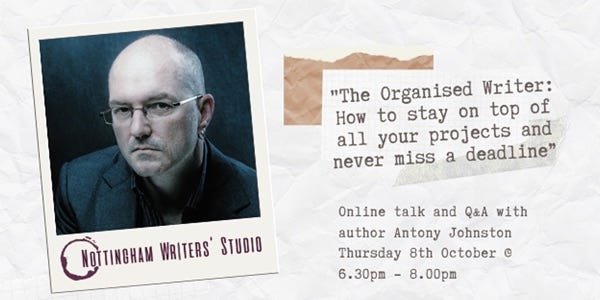 Tickets are available here: https://www.eventbrite.co.uk/e/the-organised-writer-talk-qa-with-author-antony-johnston-tickets-119897822615
Then, on Tuesday 10 November @ 7pm I'll be running a Writers & Artists Masterclass, 'The Organised Writer & The Myth of Writer's Block'. In that one I'll outline some of the fundamental principles of the book that you can take away to use yourself and, yes, debunk the myth of writer's block. No, really 😅
Tickets are available here: https://www.writersandartists.co.uk/events/the-organised-writer
I'm also doing various interviews and guest blog articles to talk about the book; follow me on Twitter for links to those as and when they happen.
BRIDGE ACROSS THE STATES (oh, and Canada)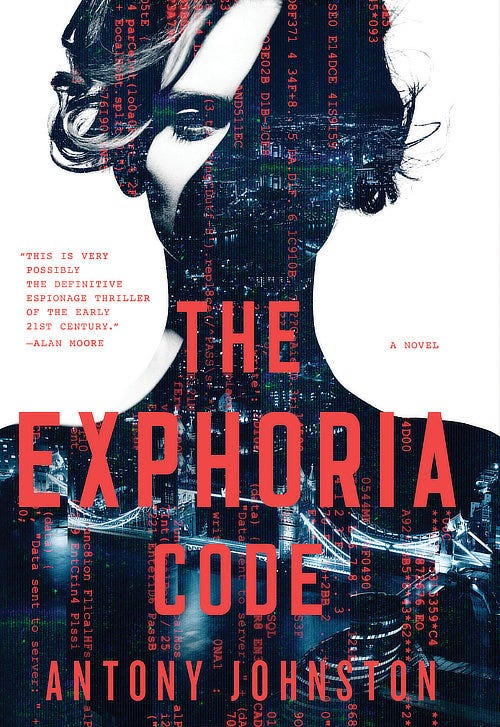 Meanwhile, the second week of October sees publication of the North American edition of THE EXPHORIA CODE, the first Brigitte Sharp thriller. 
I know some American readers have been frustrated trying to get their hands on the Brigitte books, so now here's the first — available in hardback or ebook, whichever you prefer (I assume there'll be an audiobook, but have no information about it at this time).
We've already had some great reactions from US reviewers:
"A fast-paced and cleverly constructed story that uses many of the familiar spy-novel tropes but does so in exciting new ways... A rousing success" — Booklist
"Thrilling action scenes keep the pages turning" — Publisher's Weekly
The Pegasus Books page has more information, and pre-order links: http://www.pegasusbooks.com/books/the-exphoria-code-9781643135274-hardcover
Obviously, I can't hop on a plane and appear at bookstores right now. Believe me, if I could, I would. But what I can do is appear virtually. So if you're a bookseller, librarian, member of a book club, etc… and would like me to hop on a Zoom call or similar with your reading group to talk about Bridge and The Exphoria Code, drop me a line.
One such event promises to be a lot of fun: Greg Rucka and I are set to appear for Massachusetts store Brookline Booksmith on Monday 12 October (that's Columbus Day, which ironically is usually the day I fly home from New York Comic Con…) at 7pm EST, whereupon Greg will apparently grill me about the book. Which, if you know Greg, sounds terrifying 😅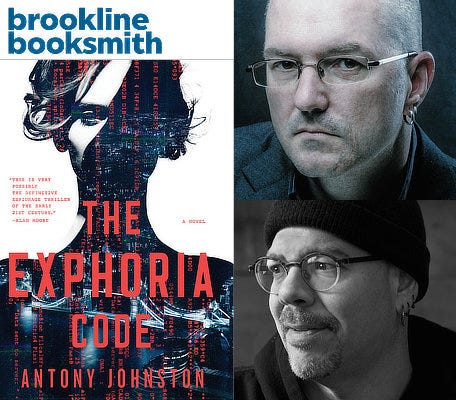 Tickets are available here: https://www.eventbrite.com/e/antony-johnston-with-greg-rucka-the-exphoria-code-tickets-120298611385
THIRTY STORIES HIGH
Project Gojira is finished at last — at least, my part in it. I still can't tell you what it is, but the game is set for release next year, at which point you can be sure I'll be shouting it from the rooftops.
What else have I been up to? Well, there's already a new videogame gig in the offing, from hereon known as Project Speedfreak, for which I'm assembling a writer's room. Very exciting.
Over the summer I wrote a new short novel, Project Snaggletooth, which is now out with my beta readers. Completely unlike anything I've done before, but lots of fun. 
Finishing that has allowed me to re-devote time to Project Overkill, aka the third Brigitte book — which is still causing me coronavirus-related headaches, but one way or another it's got to be done… 
Meanwhile various film and TV projects like Bomber (film) and Mean Machine (TV) continue to rumble, but as ever, Hollywood moves incredibly slowly until suddenly it doesn't.
…Oh, and I didn't even mention that I've been roped in to help produce the Crime Writers' Association's Dagger Awards ceremony this year, as the whole thing is going to be virtual rather than the usual gala dinner event. Yes, a live virtual awards ceremony. What could possibly go wrong.
POWER OF THE ATOM
The Orion Project was a programme tasked with figuring out a method to propel rockets by using atomic bombs. No, you didn't read that wrong. This is nuts:
FAKE, FAKE, DEEPER FAKE
Regular readers will recall me talking about Generative Adversarial Networks, or GANs, and the coming inevitability of 'deepfakes' that can be made from a tiny amount of original material but are nevertheless almost indistinguishable from the real thing. Well, consider us one step closer; this breakthrough allows almost perfect lip-synch animation using just an audio source.
And here's a YouTube video demonstration. There are fantastic legitimate uses, of course, but brace yourselves for 'fake news' of alarming verisimilitude:
LIFE ON MA—WAIT,
VENUS
?
This one just came up this afternoon, as I write; the possibility of microbial life in Venus' clouds. Venus has long been seen as one of the least hospitable planets in the solar system, so that would be kind of extraordinary. (I'm reminded of the incredible array of life found around 'black smoker' vents on the sea bed, which also seem extremely inhospitable, but life there is, and in abundance…)
https://www.nytimes.com/2020/09/14/science/venus-life-clouds.html
WRITING AND BREATHING
I remain extremely proud of the variety of guests I manage to persuade to let me grill them about how they write…!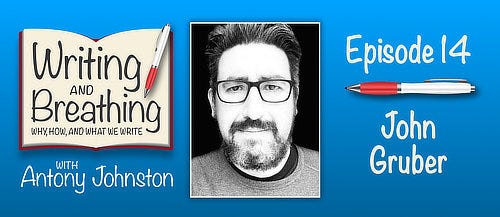 John Gruber is the famous tech blogger behind Daring Fireball (and my first non-fiction guest)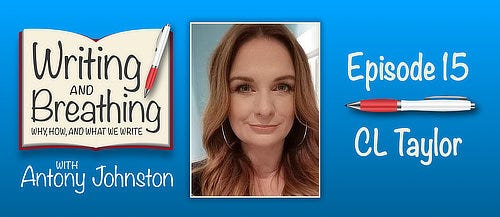 CL Taylor is the bestselling author of psychological thrillers Sleep and Strangers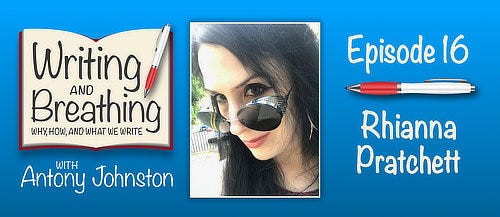 And there is, of course, more to come. I love making this show. It's now been running more than six months, so I'll take this opportunity to plug the Patreon page: if you enjoy W&B, do consider showing your support. It means a lot.
DEAD WITNESS TO AN UNSEEN FIGHT:
http://twitter.com/AntonyJohnston
http://facebook.com/AntonyJohnston
http://instagram.com/AntonyJohnston