Discover more from Antony Johnston
News from Antony Johnston about books, writing, podcasts, technology, music, and other shiny things.
[7RQ] On the Radio / #AtomicBlondeWatch / Free Samples

---

WITH A RHYTHM OF RHYMING GUITARS

I'll be appearing on BBC Radio 4's SATURDAY REVIEW show on August 11. More details next week.
https://www.bbc.co.uk/programmes/b006qh6g

#ATOMICBLONDEWATCH

Is #AtomicBlondeWatch a thing? Feels like maybe it should be. First, I received my very own Lorraine Funko: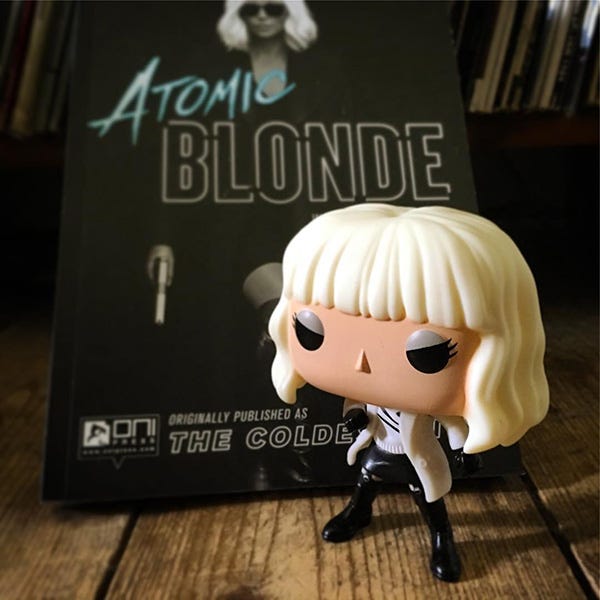 And then make-up brand NARS announced their new line, "Atomic Blonde Eye & Cheek Palette". No, it's not official merchandise, they're just using the title. Even so, let's hope nobody gets their keys stuck in it.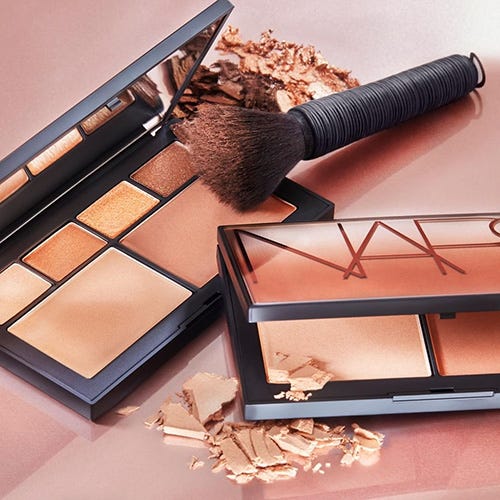 https://www.instagram.com/p/BlqDZdID3uV/


IN THE PAY OF LITTLE PHARMA

Last week I read Annalee Newitz' debut novel AUTONOMOUS, set in a future where patents rule, and synthesising 'open source pharmaceuticals' to vex Big Pharma is as common as 3D printing. (Naturally there's a lot more to it than that, and I recommend the book)

Turns out this may not be quite as far off as you might think. In fact, there are people trying to make this a reality right now (albeit with fewer holographic interfaces and murderous robots). Would you trust yourself to synthesise medication safely, even if it was your only option? Hell of a question.
https://motherboard.vice.com/en_us/article/43pngb/how-to-make-your-own-medicine-four-thieves-vinegar-collective
Newitz: https://www.techsploitation.com/#/sciencefiction/

WASTELAND COMPENDIUM VOL 2 IN BOOKSTORES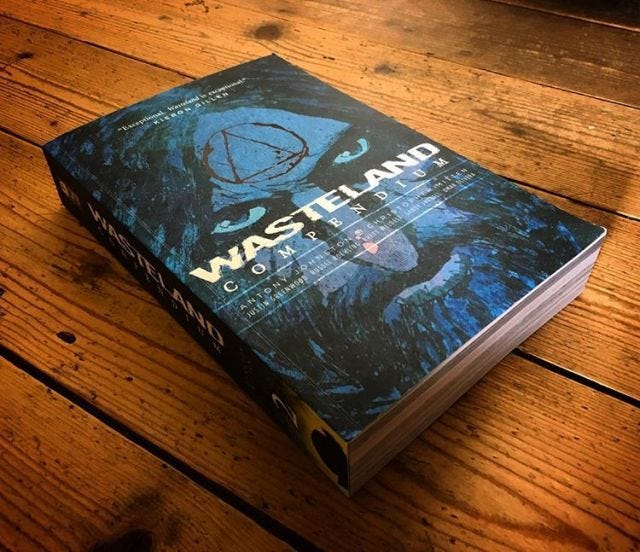 The WASTELAND COMPENDIUM Vol 2 went up on comic store shelves a few weeks back, and now it's available in bookstores too. If you fancy 620pp of post-apocalyptic climax, give your bookstore ISBN 9781620105146.

(And if you'd rather get it from your comic store, given them code MAR181798)
http://antonyjohnston.com/work/wasteland/index.php#comp2

EYE & LIGHTNING FREE SAMPLER

Eye & Lightning, publishers of THE EXPHORIA CODE, have just released a free sampler of their books that you can grab from Amazon. If you're still on the fence, you can now read the first few chapters risk-free 😉

Each sample is also accompanied by a short piece from the author; in mine I recommend five other great spy thrillers you might like to read. Grab the sampler from:
https://www.amazon.co.uk/dp/B07FVWFFJJ/

MAIDEN PLUS ONE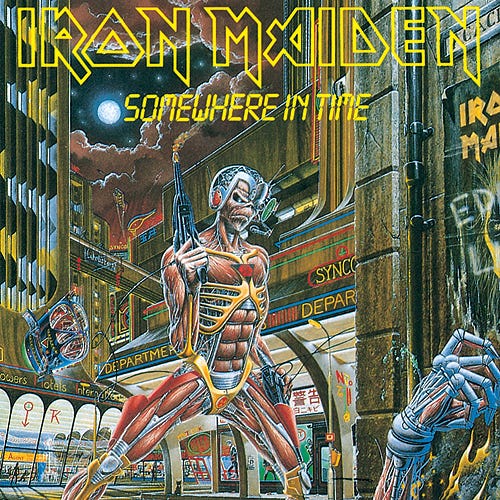 In THRASH IT OUT news, we released the second of our "Backstage Pass" episodes, where we invite a Patreon supporter to chat with us about their path into (and through) heavy metal, in the context of an album that means something special to them. In this ep, listener Justin Stanton recalls how Iron Maiden's SOMEWHERE IN TIME set him off down the dark path…
https://thrashitoutpodcast.com/episodes/4-2

STEWART LEE: CONTENT PROVIDER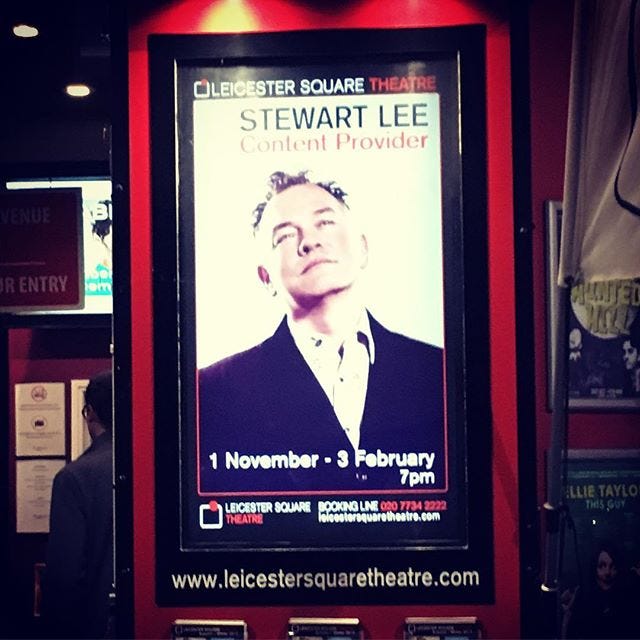 Heads-up: Stewart Lee's CONTENT PROVIDER is on BBC2 tomorrow, Saturday 28, at 10.45pm. I saw this live at the Leicester Square Theatre in November, and… well, if you're a SL fan you're probably going to watch it anyway, and if not, you're probably not. But you should, because it's very funny.
http://www.stewartlee.co.uk/2018/07/content-provider-bbc2/

RECENTLY READ: THE LONG WAY TO A SMALL ANGRY PLANET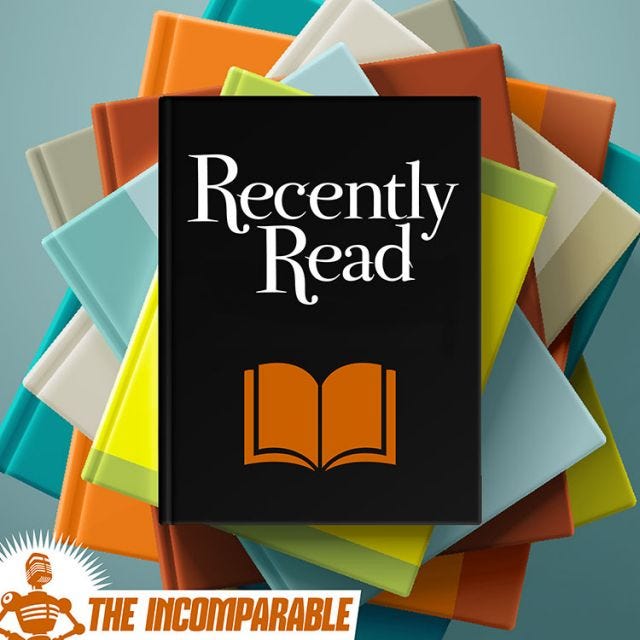 Told you I'd probably do more of these; my second entry for RECENTLY READ on the Incomparable network discusses Becky Chambers' THE LONG WAY TO A SMALL ANGRY PLANET, which is a firm favourite of many other panelists on the network, and now it's one of mine, too.
https://www.theincomparable.com/recentlyread/11

---

NOW I WALK AMONG THE BUILDINGS OF THE CITY:

http://instagram.com/antonyjohnston
http://twitter.com/antonyjohnston
http://facebook.com/antonyjohnston

http://antonyjohnston.com/contact

https://tinyletter.com/7RQ/archive