Discover more from Antony Johnston
News from Antony Johnston about books, writing, podcasts, technology, music, and other shiny things.
[7RQ] Facebook / Music / Shrewsbury

---

BOOKFACE

Being an Old Git On The Internet (not to mention my time spent working at .net magazine) means I remember the wailing and gnashing of teeth over the "corporatization of cyberspace" — a phrase that itself tells you how quaint those concerns were — and the subsequent skepticism that greeted large online-only companies whose business model literally requires our private information be used by advertising companies.

So I was rather amused to discover the following rather sparse and occasionally misinformed profile of me in Facebook's "Ad Categories" section.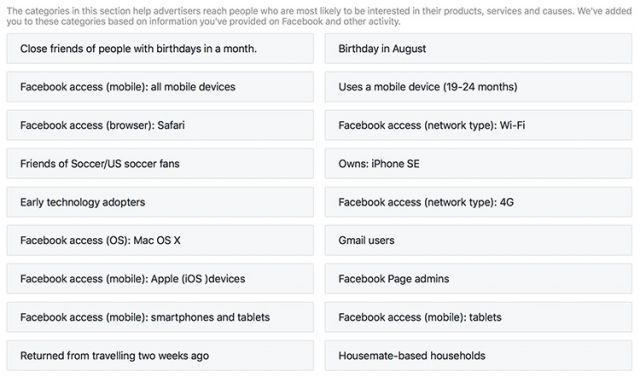 Now, there's a lot of information I simply withhold from places like Facebook, in the same way I don't breezily tell telemarketers my first pet's name or the street on which I grew up. But anyone who's ever seen my social media feed will no doubt be as puzzled as I was to see a distinct lack in this so-called profile of anything related to dogs, cooking, or… um… writing.

Anyway, in a perfect example of the "news overtaking writers" scenario I mentioned in a recent newsletter, there appears to be a new story with yet further terrible revelations about Facebook and Cambridge Analytica approximately once every four hours at the moment, so I'll just say "I told you so" and leave you with several links:
Hey, remember we said maybe 50 million users' info was harvested by CA? Actually it might be more like 87 million: https://www.nytimes.com/2018/04/04/technology/mark-zuckerberg-testify-congress.html

Whoops, did we say 87 million? Actually "most" of our 2 billion (!) users' info may have been compromised, because our privacy defaults are awful: https://www.washingtonpost.com/news/the-switch/wp/2018/04/04/facebook-said-the-personal-data-of-most-its-2-billion-users-has-been-collected-and-shared-with-outsiders/

What do you mean, you didn't think we were reading your Messenger chats too? https://www.digitaltrends.com/social-media/facebook-reads-messenger-messages/

And that earlier newsletter is at https://tinyletter.com/7RQ/letters/7rq-2018-03-18
(Remember when the EU passed that data law a couple of years ago, allowing you to insist online companies remove you from their archives & search history? And everyone laughed at how silly and overreaching it seemed? Hmmmm.)

QUIET WEEK

I've hit that point in several projects where it's just nose to the grind, with no imminent new releases on the horizon. It's always a little frustrating, because to the outside world it can look like you're doing nothing, when in fact I'm writing (and pitching) every day. This week alone I wrote somewhere in the region of 12,000 words across several projects, but not only will you lot not see them for months, I can't even tell you what they are. Hey ho.

(Actually, that's not strictly true; one of the projects in question is the second Brigitte Sharp book, on which I recently began work. But that's hardly news to anyone reading this ;)
PACKS OF THE LOW COUNTRY soundtrack album
So instead, let me tell you about something by a friend: Don Cardenas, a comic artist and musician (you can hear his guitar work on the THRASH IT OUT theme tune, in fact) has a new indie graphic novel with writer John Dudley, called PACKS OF THE LOW COUNTRY. So far, so normal, but Don was also inspired by my WASTELAND soundtrack album to record one for his book, too. And it's pretty good; very atmospheric, and pretty heavy in places. Soundtrack: https://doncardenas.bandcamp.com/
Graphic Novel: https://www.doncardenasart.com/
If you've never heard the WASTELAND soundtrack: http://antonyjohnston.com/work/wasteland/ost.php

SUNDAY APRIL 15th, SHREWSBURY




Next weekend I'm attending the Crime Writers' Association annual conference in Shrewsbury, England. While the conference itself is members-only, there's also a public "Meet the Authors" event as part of proceedings, and I'll be there.

The event is at Shrewsbury Waterstones, on the high street, from 2.00 - 3.30pm on Sunday 15th. A group of CWA authors will end the conference by hanging out, chatting to readers, and of course signing our books. If you're in the area, come in say hi — I'll literally be the least famous person there 😅 so if you have any interest in crime and thriller novels it'll be worth it. https://www.facebook.com/ShrewsburyWaterstones

OTHER APPEARANCES

And while we're on the subject of appearances, here's a reminder of where else you can clap eyes on me in the near future:

SUN MAY 6: NEWCASTLE NOIR
"Otherworldly" panel w/ Chris Brookmyre and Michael J Malone http://www.litandphil.org.uk/whats-on/2018/may/newcastle-noir-panel-8-otherwordly/
SAT MAY 12: OLDHAM COMIC-CON https://www.facebook.com/oldhamcomiccon/
SAT JUN 30: BRADFORD LITERATURE FESTIVAL
ATOMIC BLONDE panel, plus a table at the new ComiCo event http://bradfordlitfest.co.uk

---

LIVING, LAUGHING, EYES AWAKE:

http://instagram.com/antonyjohnston
http://twitter.com/antonyjohnston
http://facebook.com/antonyjohnston

http://antonyjohnston.com/contact

https://tinyletter.com/7RQ/archive