[7RQ] EUROVISION SPECIAL

---

NEWCASTLE NOIR

Quick reminder before we get into the main event: the Newcastle Noir festival is THIS WEEKEND. I'm appearing on the "Otherworldly" panel, Sunday morning at the Lit & Phil. Hope to see you there.
https://twitter.com/NewcastleNoir/status/989093389156212736

DOUZE POINTS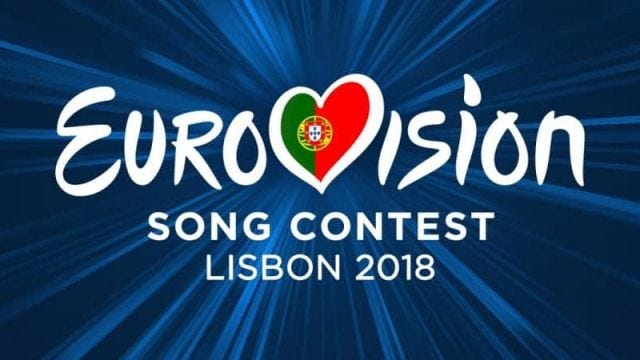 Eurovision time is fast approaching, with the Grand Final taking place on May 12 — which just so happens to be the same day as Oldham Comic-Con, so if you see me sprinting for the library doors at closing it's because I'm racing to get home and park myself in front of the TV.

Eurovision entries have a long-standing tendency to ape the previous year's winner — though I've never quite understood why, because the same kind of song almost never wins twice in a row. The most glorious example of this was when, in 2006, Finnish costume-rock act Lordi came out of nowhere to bag a surprise win: https://www.youtube.com/watch?v=gAh9NRGNhUU

The following year, Eurovision's usual parade of cheesy pop starlets was shoved aside by a conga line of grizzled middle-aged men in hastily-donned leather jackets, trying to convince everyone they knew the difference between Thin Lizzy and Burzum. It was amazing and hilarious, especially for this lifelong metalhead… but also a perfect example of the truism, because the winning song that year was in fact a plaintive power ballad. Sung in Serbian.

Plus ça change.

All of which explains why this year's entries are, shall we say, not the strongest Eurovision has seen, thanks to Portugal's insipid 2017 winner. The new batch doesn't even have a truly bonkers entry — no equivalent to Lordi's HARD ROCK HALLELUJAH, or Epic Sax Guy, or Verka Serduchka's DANCING LASHA TUMBAI, or That Polish One With the Milkmaids (I think that was its full title).

This is a shame, because as much as I enjoy (some of) Eurovision for (some of) the music, it's just not the same without a completely batshit insane act every now and then. But Portugal's winner was so tedious, its influence has sucked the usual bombast and craziness out of the room.

Even Sweden — good old reliable, rock-solid, we've-won-this-bloody-thing-six-times-just-to-prove-ABBA-weren't-a-fluke Sweden — couldn't escape the creeping banality, and for the first time in a long time their entry is a horrible thing, a pale and bland Justin Timberlake pastiche. It'll probably place in the top five.

Thankfully, not everyone has succumbed to anaemia 😅

I won't try to predict a winner — you can't trust me, some of my recent favourites haven't even made it to the final — but here's what's caught my ear this year:

Austria — Cesár Sampson, NOBODY BUT YOU
https://www.youtube.com/watch?v=I8MyztgOTv8
Austria's entries are often a bit cautious and forgettable (obvious notable exception: 2014 winner Conchita Wurst), and this one isn't going to shake any foundations of musical theory. But it's a genuinely good song, well performed; a real earworm, with some nice rhythmic dynamics.

(Also, another finger in the eye of people who said Ralph in THE FUSE was a symptom of those ker-razy sci-fi liberals. Ha ha, etc.)

Switzerland — ZiBBZ, STONES
https://www.youtube.com/watch?v=YLWDqy1DnP0
Pop/rock cheese of the highest order, the kind of song you almost don't want to like because it struts around with such arrogance. But damn if it isn't catchy as all hell.

Czech Republic — Mikolas Josef, LIE TO ME
https://www.youtube.com/watch?v=9zZPB3y70oU
It may surprise non-regular Eurovision watchers to know that many entries often sound like they're hip to a bandwagon which left town 20 years ago. Occasionally, though, we get songs that seem to have been written in the current century, which is always nice.

Greece — Yianna Terzi, ONIRO MOU
https://www.youtube.com/watch?v=z6hvV9-Gi_w
Another common Eurovision theme is the 'native ethnic' song, where countries submit something that actually represents their national musical heritage. What a concept! Sadly, most of the time they don't stand a chance against the forces of Euro-pop. I don't expect this entry will fare much better, but it's definitely one of the better examples.

Hungary — AWS, VISZLÁT NYÁR
https://www.youtube.com/watch?v=6unRU5ZHbqY
Ever since the infamous Lordi win, the Eurovision committee gets together once a year to randomly decide who will submit an almost-heavy rock band as their act, thereby guaranteeing a loss. This year Hungary drew the short straw.

Latvia — Laura Rizzotto, FUNNY GIRL
https://www.youtube.com/watch?v=uBlZsGxeXk4
There's always at least one Eurovision song that seems to have been reconstituted from a rejected Bond theme, and this year it's Latvia. But… it's also pretty good. I wouldn't be surprised if this does quite well. (Though I'd be equally unsurprised if it doesn't even make the final. Nobody said Eurovision was fair.)

Ukraine — Mélovin, UNDER THE LADDER
https://www.youtube.com/watch?v=E1yoAtjhkzQ
Imagine a young, goth-curious Rick Astley singing an uptempo Elton John rocker. Now imagine that it's actually not bad, and even has a good singalong part in the chorus. Utterly baffling.

Something of interest to note: none of the above is from the "Big Five", i.e. France, Germany, Italy, Spain, and the UK. Normally at least one of them has something good, but this year they're all serving up weak tea. Considering the whole point of the Big Five is that they contribute so much money to the production they get special treatment, the UK could literally send Aphex Twin to turntable a piece of sandpaper for three minutes and nobody could stop us. But we never do.

(UK Eurovision committee, I am available for consultation at very reasonable rates.)

BONKERS VIDEOS!

As I said, there are no truly crazy entries this year. Even Israel's somewhat-quirky submission isn't all that odd, and it's not a bad song either. But if there's one thing Eurovision knows how to do, it's liven up a fairly normal song with crazy stage antics — cf Russia's 2016 digital graphics trickery, those milkmaids again, or last year's entry from Azerbaijan, a great song that someone nevertheless thought needed livening up with a bloke on a ladder wearing a horse head. You're welcome.

Who knows what will happen on the night — I fully expect Israel to pull something out of the bag, for example — but so far, two entries stand out for sheer visual nuttiness.

First, HIGHER GROUND by Rasmussen for Denmark:
https://www.youtube.com/watch?v=XeraDSzu0nw
I mean, there's not much more I can say about that, except how amused I am at the shameless "hey, England, remember how we used to invade you every other week" subtext. Astonishingly, and despite this being probably the least likely Eurovision entry ever to end with a key change, some bookies have this as a top three favourite.

And then there's TABOO by Christabelle for Malta:
https://www.youtube.com/watch?v=E_0ugf0eP1Q
No, you're not watching student-made fanfic of MAD MAX FURY ROAD — or rather, you might be, but give it a minute and a disappointingly normal song also occurs. You could be forgiven for missing it, mind.

RUSSIA

…Oh, don't get me started. Suffice to say that Russia's Eurovision entries are rarely without politics, and this year is no exception.

HOW TO WATCH

If you're in Europe, or one of the participating countries, you're set; just check your regular listings. If you're in the US, Eurovision is broadcast on LogoTV (see http://wiwibloggs.com/2017/08/28/michelle-visage-says-sweden-won-eurovision-2017-confirms-2018-logo-commentary-gig-ross-matthews/195524/ ). The competition also recently began livestreaming on YouTube and in the Eurovision app, but sometimes with regional restrictions. Overall, your best bet is to check https://eurovision.tv/

And then of course there's twitter. I'm @AntonyJohnston, but keep an eye on Euro-twitter in general for snark, commentary, outrage, despair, and mass toe-curling as each country's points announcer uses their thirty seconds in front of the camera to desperately audition for more work. Remember: nobody in their right mind does Eurovision sober, including the hosts.

---

BE THE FIRST TO TURN AROUND:

http://instagram.com/antonyjohnston
http://twitter.com/antonyjohnston
http://facebook.com/antonyjohnston

http://antonyjohnston.com/contact

https://tinyletter.com/7RQ/archive